4 Sustainable Bodysuits For The Ethical Shopper
>
Looking for your next wardrobe staple?
On a quest for the perfect, long-lasting layering essential that you'll reach for time and time again? We're here to tell you that your prayers have been answered. Introducing the Stripe & Stare bodysuit. Reminiscent of the 90's favourite, our bodysuits are perfect for pairing with high-waisted jeans for the ultimate vintage look. The softest second skin guaranteed to satisfy all of your comfort-needs through every season. Providing the ultimate warmth and cosiness under your favourite chunky knits through winter, and keeping you cool and comfy during those warmer months of summer with their breathable and sustainable TENCEL™ Modal fibres. 
Why choose a bodysuit?
We know what you're thinking… why opt for a bodysuit over a regular vest or top? Bodysuits are our fuss-free wardrobe must-have, that once bought you'll wonder how you ever lived without. Once you've fastened your poppers, you won't need to worry about tugging your top into your jeans for that smooth and seamless finish. The bodysuit does not budge. So you can say goodbye to wrinkles and rolls, as this layering essential will not be riding up and driving you around the bend.
For effortless styling that you'll never tire of, a bodysuit will be your new go-to. Dress up with a pair of tailored trousers and heels for sophisticated (but oh-so comfy) chic. Or if keeping it casual is more your vibe, then jeans and a bodysuit never go amiss. 
Not only do our bodysuits look good, they feel amazing, their softness resembling that of a cloud. With their popularity rising over recent months, we know there are an array of bodysuit options on the market, so finding the perfect fit for you is so important. If your experience of the bodysuit thus far has been all synthetic fibres and ill-fitting, uncomfy nightmares, then you'll have been desperate to get home and change into your pyjamas at any given moment. These issues are absolutely unheard of when it comes to Stripe & Stare's bodysuits, so soft that you forget you have them on! And did we mention they're made from trees?
We've made our case for the bodysuit, crowning them an absolute wardrobe must have, and now we're ready to help you find your perfect bodysuit. With an array of shapes, colours and fabrics to choose from, we've given you a run-down of our favourites to help point you in the right direction.
Our Long Sleeved Bodysuits are the ultimate light layering pick, perfect for transitioning through the seasons. Finished with gorgeous lace detailing that adds a soft feminine touch and with the same cloud-softness of our knickers that you know and love. Made from our signature TENCEL™ Modal that provides the ultimate comfort and breathability, say no to synthetic fibres and hell yes to the sustainable bodysuit. The Long Sleeved Body is available in our signature hot pink and black. Shop here.
Sleeveless is more your style? Our Spaghetti Strap Bodysuits are perfect for those warmer months and for those with a tendency to feel the heat. Combat the everyday nightmare of sweating on the tube by layering up with our Spaghetti Strap Body. Throw a lightweight shirt over the top for an effortless summer look or rock solo with your go-to denim shorts. This body is set to become your new wardrobe staple. Decorated with a delicate lace trim and made from our much loved TENCEL™ Modal, the Spaghetti Strap Body is available in our signature hot pink and black. Shop here.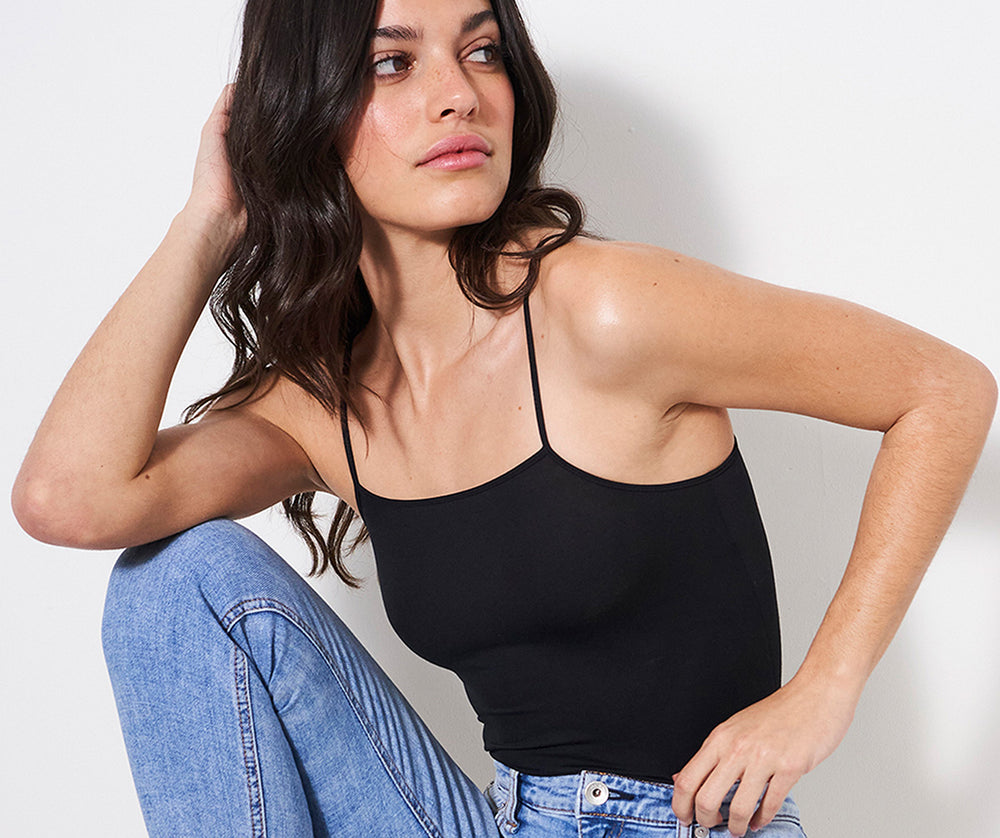 100% biodegradable?! Barking mad - right? Here's how it works. Once you've worn and loved me to death (in the very distant future), simply pop me in your compost bin (just remember to remove the metal poppers first.) You can rest easy knowing you've opted for a sustainable wardrobe staple that reverts back to nature. Using the latest science in fibre technology, our B-Edit Collection combines Lenzing TENCEL™, SeaCell™ and Roica V550 rather than traditional elastane. The biodegradable process releases no harmful chemicals into the soil and takes just 180 days to fully break down when buried in the soil. Made from 71% TENCEL™ Micro Modal, 19% SeaCell™ and 10% Roica V550. The B-Edit Body is available in jet black and whisper white. Shop here.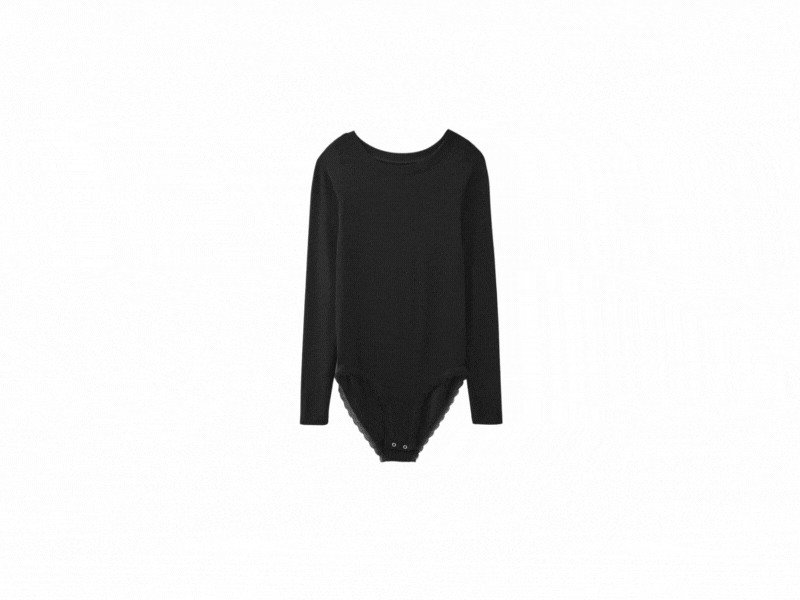 The cool, nostalgic and elevated basic you didn't know you needed, until now. Our gorgeous Pointelle fabric features romantic lace and a sweetheart knit design that is simply to die for. The Pointelle body is super-soft, lightweight and breathable, crafted from the same sustainable fibres as our mainline. Putting an S&S twist on the traditionally cotton fabric originating from the 1950's, we've given Pointelle a modern makeover with our 100% biodegradable fibres. The Pointelle Body is available in black and lilac. Shop here.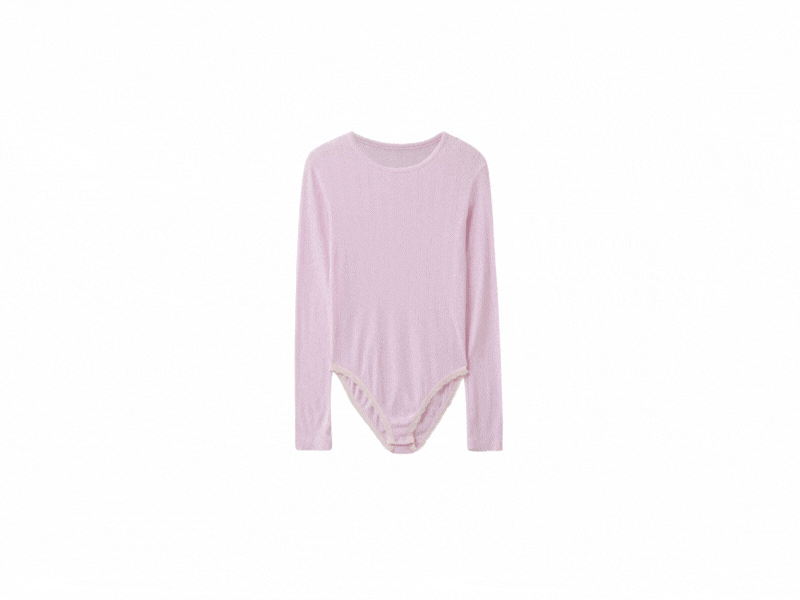 Why our bodysuits are sustainable
TENCEL™ Modal fibres are extracted from naturally grown Beechwood, by an environmentally responsible integrated pulp-to-fibre process which is self-sufficient in energy and recovers co-products from component parts of the wood.The European Beech forests grow naturally without the use of chemical fertilisers or artificial irrigation. Lenzing only uses wood from unprotected forests and every tree is regenerated, so anything pulled down is offset with replanting. The production of TENCEL™ Modal uses 95% less water to produce when compared to cotton and reuses 100% of the water from the production process. All TENCEL™ standard Modal fibres are biodegradable and compostable under industrial, home soil and marine conditions, thus they can fully revert to nature. Read more about our sustainability to get clued up.
Shop our bodysuit collection to elevate your wardrobe to the comfiest level.