Why Stripe & Stare Knickers are the Comfiest
>
You will have heard the claims by now, Stripe & Stare create the world's comfiest knickers. It's a bold claim, we know! But we're here to back it up with the reasons why our knickers are the absolute gold standard for comfort. And now with over 18,000 5-star reviews, we'd hate for you to miss out on the comfort revolution happening before our very eyes.

Enter, TENCEL™
There are many factors working together in sweet harmony to make our underwear, sleepwear and clothing feel like the comfiest thing you've ever worn. However, our miracle fabric TENCEL™ is the real star of the show when it comes to achieving these insane levels of comfort. Why? Here are our top five reasons…
Softness
TENCEL™'s natural fibres are exceptionally soft to the touch, think cloud-soft. With a production process that mechanically breaks down wood pulp into extremely fine fibres, the end result is a silky-smooth texture that feels so gentle against the skin. Measurements and hand evaluations of softness show that TENCEL™ Modal fibres feel twice as soft as cotton. What more could you want from your knicker fabric?
Breathability
It's impossible to feel comfortable when we're over-heating, we all know the struggle. TENCEL™ is highly breathable, allowing air to circulate effectively through the fabric. This helps regulate body temperature by wicking away moisture from the skin and allowing it to evaporate. This keeps you cool and dry in the hot weather, when exercising and when dashing between tube stops.
Moisture Absorption
TENCEL™ has amazing moisture-absorbing properties, absorbing moisture up to 50% more effectively than cotton! This helps keep you comfortable by preventing excessive sweat build up – always a win.
Durability
TENCEL™ fabric is renowned for its durability and resistance to wrinkles, meaning it maintains its comfortable qualities over time and requires minimal maintenance. Its'
softness lasts longer and can withstand repeated wash and dry cycles compared to cotton. Owing to the fibre's sleek cross-section, TENCEL™ fibres enhance the
soft touch of fabrics even after repeated washing.
Allergen-Friendly
TENCEL™ is naturally hypoallergenic, meaning it is less likely to trigger allergic reactions or skin sensitivities. This quality makes it the go-to choice for those with sensitive skin.
Read more about our fabric here.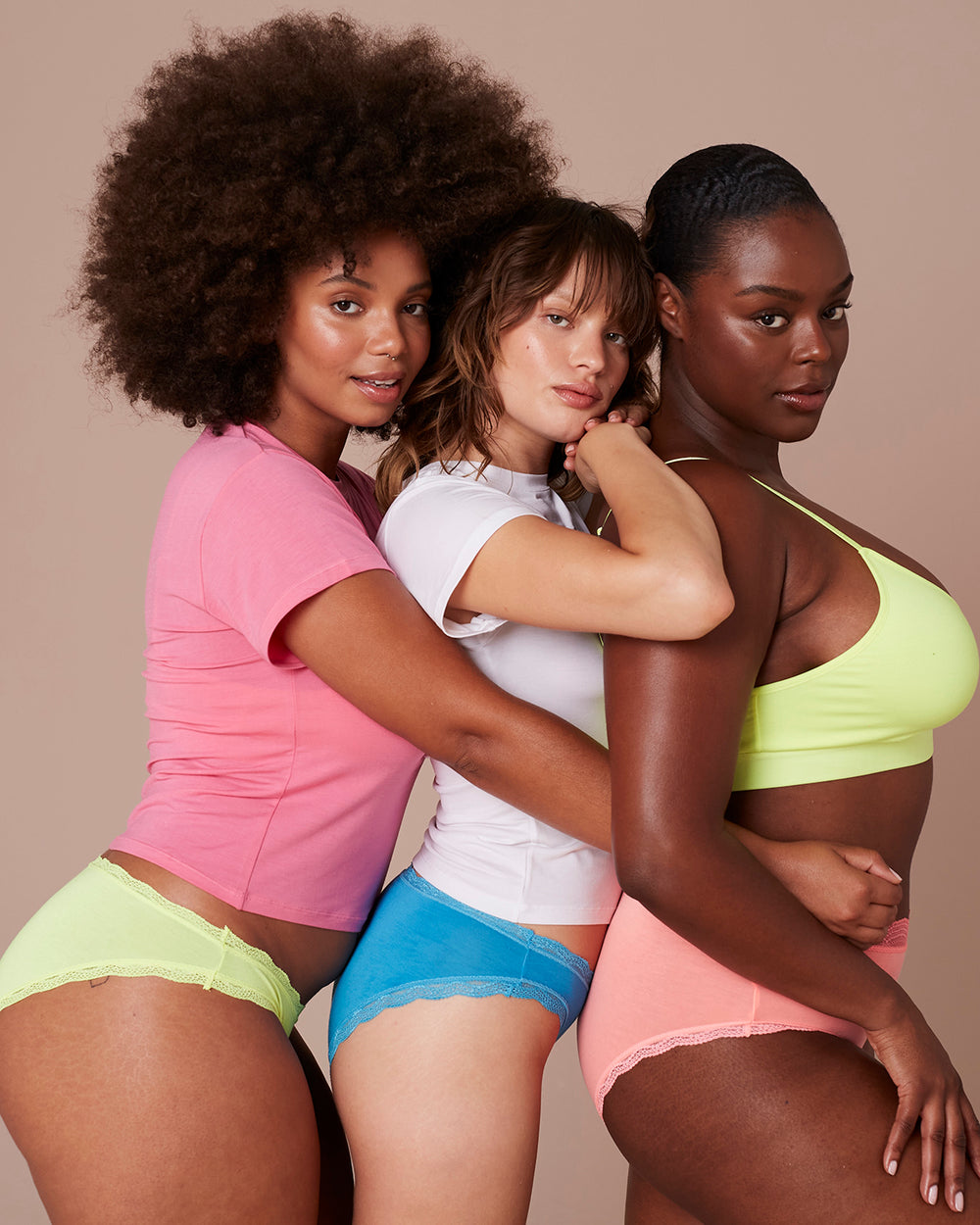 The Fit
Coming in at a close second as to why Stripe & Stare knickers are the comfiest in the world, is the fit. We've worked so hard to achieve the perfect cut, meaning no unsightly lines, riding up, or cutting in at the wrong places. With no heavy elastic seams, and flatlock stitching combined with lace, our knickers lie perfectly flat against the skin and make you feel like you're wearing nothing at all!
Designed by women, for women, all our products are tried and tested over and over again to ensure maximum comfort. Made for the modern woman, too fun for frumpy underpants and too busy to wear anything uncomfortable that won't support her throughout the day. 
The Shapes
We understand that achieving those ultimate comfort levels can be subjective, with knicker-needs varying between women. That's why we've created six different shapes of different levels of coverage to ensure we're catering for everyone. For our minimal coverage ladies, we've got our Thongs and Brazilians, for our medium coverage crew we've got our Original Knicker and for the maximum coverage queens we've got our High Rise, Hipsters and Unisex Boxers.
Find your perfect shape today.
Choosing a selection results in a full page refresh.